Crew

The Greg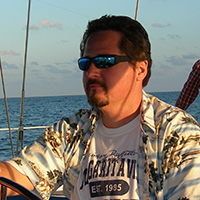 Greg was raised in a booming city of 5,700 called Kaufman, Texas.  His love of computers was ignited at an early age when he and his brothers were given a Commodore 64.  However, his dream of a career in the computer industry was sidetracked when he was denied access to the computer programming track at that high school because the class was filled alphabetically. With a last name beginning with 'T', even intervention by the teacher couldn't get him in.  So he turned to his second love, music.
He spent the next few years playing brass instruments in the high school marching and concert bands. When Sky Ryder Drum and Bugle Corps held tryouts, Greg auditioned and spent two summers travelling around the country, competing with other drum corps in national competitions.  After this pivotal experience, he decided that teaching music would be a worthy vocation. He chose music as his college major, having discarded his passion for computers.
Though Greg enjoyed the comradery and showman ship of performing music, and teaching private lessons to kids gave him a sense of legacy, he felt that this was not to be his destiny. At the age of 22, he asked his young bride if she would be amenable to cashing out a small 401k account to purchase a personal computer (with Windows 95, oh yeah).  With that, the man was back in his element, with a near miss of being a band director. He quickly moved on from his college music major and job at a building supply chain and built his career from entry-level Help Desk Tech to Senior Implementation Specialist for a boutique IT Service Management Software Company.
Greg took his first sailing class in the Florida Keys in 2000.  After many years cutting his teeth on the lakes of North Texas on a Ranger 23, he sold her to start the process of living aboard full-time. Greg is 10% luckier than most. He loves Tex-Mex, IPAs or a good nitro stout. His ability to tinker and figure things out will serve him well on Star Stuff for many years to come.
Thus begins his life as a sailor.
Jules
Julie grew up on five acres of North Texas pasture grass outside Palmer. There were 38 people in her graduating class. Thirty. Eight.  Let that sink in, as the wanderlust did. Her first glimpse at her creative future came during her Sophomore year in high school when she first looked into the view finder of the yearbook teacher's Canon AE-1. From that moment, she wanted to be a photographer, but the print production skills from the yearbook class stuck better (and were more practical).  This was before InDesign, before Pagemaker, even.  Back then, the graph paper pages were taped up with text and images and sent to a yearbook company to be photographed, printed and bound for distribution.
Julie spent most of her graphic design and print production career with a wine and spirits distributor in Dallas.  She became a specialist in large, bound printed books such as product catalogs and employee handbooks. She even got her BFA in Art Direction (a glimpse at the world of advertising, no thank you). In the end, though, growing up on a hill in Ellis County had planted that seed of wanderlust, and she began to plot alongside her husband a wild escape from her cubicle.  She joined her man in the Keys for ASA 101 and 103 and together, they worked through the USPS courses through Navigation (JN and N pending exams).
Julie's goal for the next two years is to earn her Captain's License. So, she'll be on the look out for crew positions on the Florida East Coast and to the Bahamas.
Get in the Dinghy!

Ginger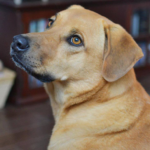 Y'all are some damn, crazy fools, you know that?  I like you, but you're crazy.
Also, I have my own Facebook page, so you know what to do.
Leave us a Tip!
If you think we're entertaining or funny or wise, leave us a tip!